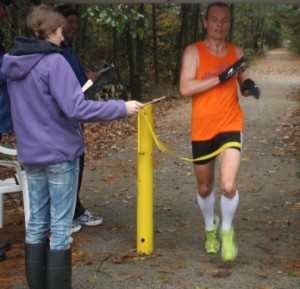 The Station Loop Ramble 5-miler was a wonderful race! The rain showers didn't dampen the spirits of the runners and the volunteers came out in force to make sure that the race came off without a hitch. Thanks to the many, many volunteers that helped.
The field of nearly thirty runners took off at 10 am, rounding the bend up West Road on their way around to the Mass Central Rail Trail and back to the start. The fastest runner came back to the start in just over 29 minutes and the youngest runner made it in 38 minutes flat. Completing the race is a testament to fitness and tenacity of all the participants who climbed up West and Unitas Roads, just to have a long flat run for the last two miles. We heard lots of compliments on the challenging nature of the course.
A special thanks to the corporate sponsors:  Quabaug Corporation, Hardwick Sugar Shack, Country Bank, Rose 32 Bread, Hardwick Kilns, Kip's Christmans Tree Farm, Reed's Country Store, Clover Hill Country Store, R.N. Glidden Landscaping Services, Hannaford Supermarket, and Turley Publications.
In addition, donations to the award baskets and age class winners were received from: June Glidden's Bake Shop, In A Jam, Hardwick Farmers' Co-op, Ruggles Hill Creamery, Dunkin Donuts, Hardwick Vineyard & Winery, Barre Mill Restaurant, D&D Fitness Factory and Webb's Heirloom Garlic.
To see more photos and the race results, please visit the race page by clicking here.