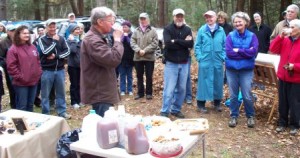 More than 50 people gathered at Moose Brook Preserve on Sunday afternoon, October 28 to remember Chuck Kidd and dedicate EQLT's new interpretive trail.
Chuck was a professional fine arts photographer, outdoor enthusiast, and friend of the East Quabbin Land Trust. During the dedication, Ann Kidd spoke of her husband's great love of the Moose Brook Valley. Chuck spent many hours hiking the area and photographing the subtle beauty of the local landscape and the character of its inhabitants.
After the ceremony, friends and family raised a toast of apple cider in memory of Chuck and set out to hike the new trail. The one mile trail meanders along the forested eastern slope of Ruggles Hill, passing through a unique rich mesic forest, hemlock grove, and oak forest. This self-guided interpretive trail identifies many forest trees and highlights special features on the landscape.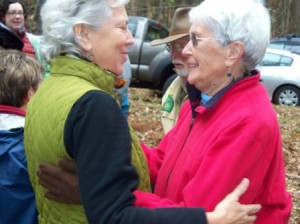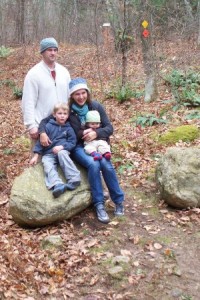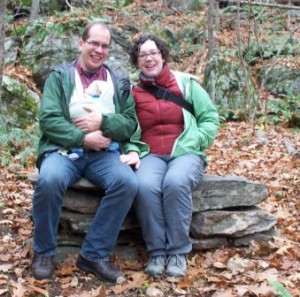 The memorial plaque is installed in a large boulder to the left of the stone bench. The plaque reads…
The Chuck Kidd Interpretive Trail
in memory of
Charles T. Kidd
1945 – 2009
Chuck gained an early appreciation for the natural world during Michigan summers that were spent hiking and fishing with his family.
After spending several years as a photojournalist on the Oregon Coast, he moved with his wife Ann to Hardwick in 1973.  Here he became enamored with the people, the woodlands and waterways of New England and happily resided for the rest of his life.
As a professional and fine-arts photographer, Chuck spent many hours hiking the area seeking that perfect moment and capturing the obvious and subtle beauties of the local landscape.
Walking along Moose Brook was a frequent and favorite year round joy for Chuck, his wife, and children.  Chuck was constantly astounded by the beauty of this place and appreciative of the nature that surrounds us.