| | |
| --- | --- |
| 5-Mile Results |   |
| Matthew Twarog | 30:54:00 |
| Michael Siok | 34:13:00 |
| Andrew Wiewel | 35:38:00 |
| Rob Dempski | 36:52:00 |
| Fraser McBeth | 38:43:00 |
| Philip Dupell | 39:51:00 |
| Evan White | 42:45:00 |
| Carol O'Shea | 44:55:00 |
| Carmin Szynal | 45:33:00 |
| Pamela Clark | 46:11:00 |
| Michael Cavanaugh | 46:11:00 |
| Melissa White | 47:05:00 |
| Tammy Tuttle | 47:30:00 |
| Jenni DiMauro | 47:58:00 |
| Christopher Laursen | 48:13:00 |
| Kristin Siok | 49:53:00 |
| Michael Wynne | 50:46:00 |
| Nicole Keleher | 53:53:00 |
| Brian Keleher | 53:54:00 |
| April Rose Carter | 59:13:00 |
| Karen Goudey | 59:13:00 |
| Joe Salvadore | 1:11:23 |
| | |
| --- | --- |
| 5k Run/Walk Results |   |
| Ella Reeves | 23:40:20 |
| Katherine Reeves | 23:41:12 |
| Collin Wilk | 23:56:03 |
| David Maher | 25:45:09 |
| Ryan Grupposo | 25:30:36 |
| David Martin | 27:13:73 |
| Jacob Bassett | 28:33:19 |
| Harley Bassett | 28:34:55 |
| Jeffrey Grupposo | 28:37:45 |
| Mark Kablack | 28:52:29 |
| Elaine Dill | 30:31:43 |
| Ben Reed | 32:32:83 |
| Lincoln Radzevich | 32:58:15 |
| Tyler Tegnelia | 33:58:22 |
| Emma Wilk | 36:05:06 |
| Dori Robbins | 36:39:32 |
| Ben Goldstein | 43:05:87 |
| Ben Eccles | 43:07:80 |
| Paula Ye | 51:37:25 |
| Christa Mansur | 51:37:37 |
| Sandra Auld | 54:53:44 |
| Arlene Kusek | 55:10:24 |
| Elaine Siok | 55:12:04 |
| Kathryn Caci | 55:13:24 |
| Joseph Siok | 55:39:99 |
| Carol Goodrow | 55:40:65 |
| | |
| --- | --- |
| Kid's One Mile Results |   |
| Timothy Rodier | 6:17:40 |
| Mason Ferguson | 6:52:48 |
| Elise Rodier | 7:52:00 |
| Ellie Robbins | 9:25:00 |
| Andrew Ferguson | 10:32:28 |
| Kalina Bassett | 11:05:30 |
| Owen O'Donnell | 11:07:55 |
| Cora Michalski | 13:53:34 |
| Vivi Michalski | 14:17:00 |
Station Loop Ramble - 10th Anniversary
Sunday, October 10th | 9:30am | Mass Central Rail Trail, New Braintree
There's plenty of space to social-distance and still be part of the fun!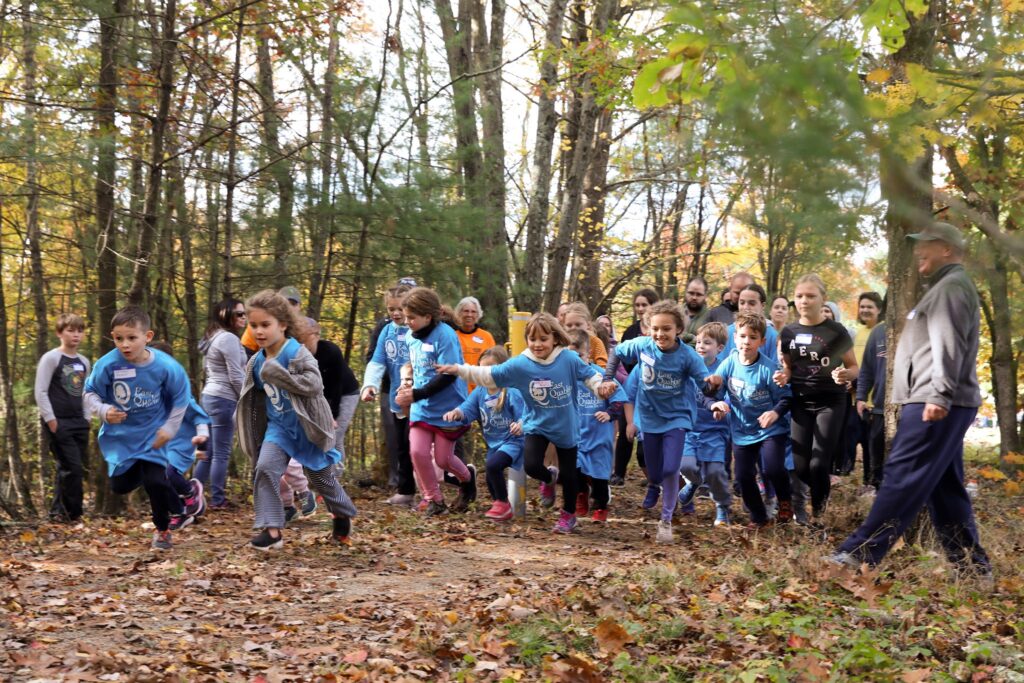 All events incorporate part of the
MCRT and start at the intersection of West and Hardwick Roads in New Braintree.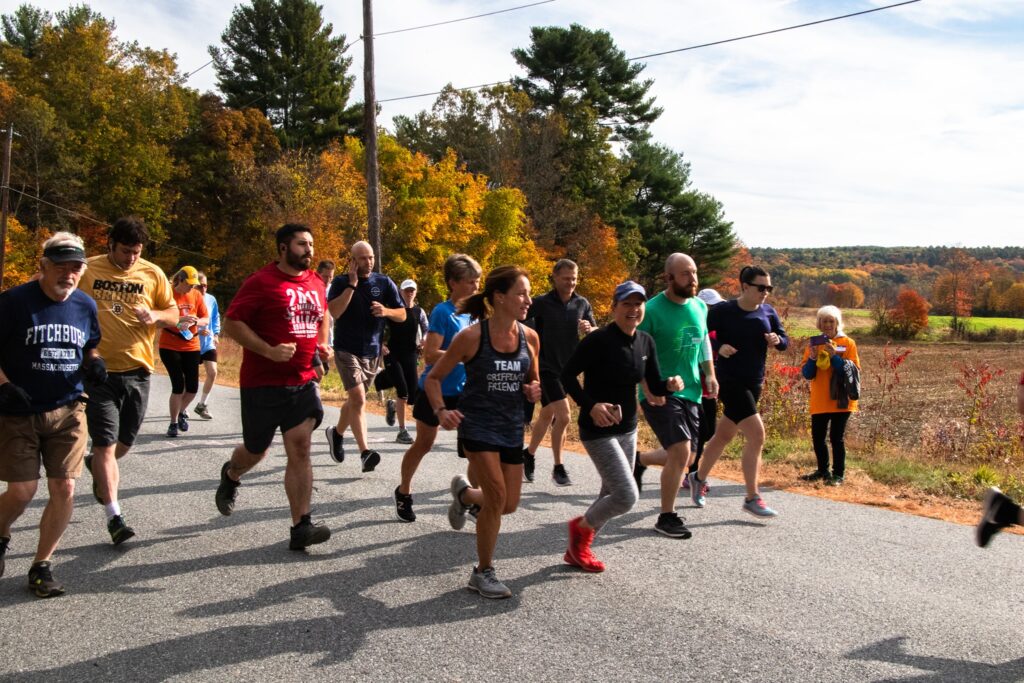 Race begins and ends at the site of the former New Braintree Train Station, travels past scenic farmland, through deep woods, and skirts the Ware River.
Registration begins at 8:30am and ends at 9:30am.
The 5-mile Classic is a hilly road and trail race with a flat fast finish on the Mass Central Rail Trail.
The Kid's One Mile and 5k Run/Walk are entirely on a flat course.
Adults must accompany children running this course.
Each mile is marked and mid-run water stop provided.
Post race refreshments, games, entertainment, free raffles to all entrants, and much more!!!
Click here to download the race map.
Kid's One Mile – 9:30am
5-miles Classic – 10:00am
5k Run/Walk – 10:05am
Online Early Bird – (through Oct. 8th) $25/adult, $10/child (13 and under)
Day-of: $30/adult, $10/child
Seniors, veterans, and first responders: $10

Thank you to our 2021 Sponsors!