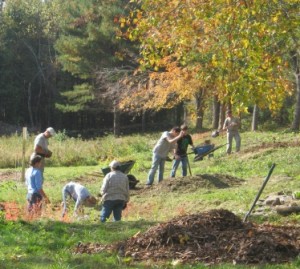 The weather Saturday morning was perfect for a fall clean-up at the Frohloff Farm. After a long week of rain, drizzle and fog it was terrific to see blue sky. We'd been planning to focus on painting the south face of the barn, but the predicted rain for later in the day put that out of question. Instead the volunteers focused on trimming trees, spreading mulch, mowing grass, hauling soil, weeding the rain garden and picking up trash along the road.  All projects long over due.
The rain garden looks glorious. Next year the iris, cardinal flower and milkweed will continue to fill in space. One of the two elderberry plants did really well this year. The other was replanted to a slightly higher location, which should better suit the plant. In several more years, the high-bush blueberry should start to flower and produce fruit.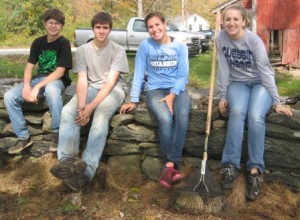 Soil was delivered earlier in the summer for the youth garden. The remaining pile was moved to the back of the garden to form a linear bed for garlic or flowers. Several trees had lower branches trimmed, including several of the apple trees damaged in the October snowstorm. There is more to do with the apple trees.
We greatly appreciate the help from Rod, Linda, Denis, Paul, Kenny, Caren, Juliette, Danielle, Anthony, Evan, Kristen and Cynthia in successfully accomplishing so many projects in one morning!