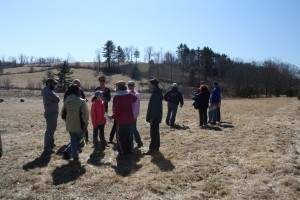 Over 100 people ventured out onto EQLT's newest Preserve on Sunday afternoon April 6th.  It was breezy, but the sun was out and everyone was thrilled to walk the 30 acre property.
Wendemuth Meadow Preserve is our first conservation effort in North Brookfield. EQLT is working with volunteers who have formed as Friends of Wendemuth Meadow to assist in preserving one of North Brookfield's most scenic and historic places. This beloved property includes 30 acres of agricultural meadowland, a historic barn and beautiful wetland complex that is a tributary of Coy Brook.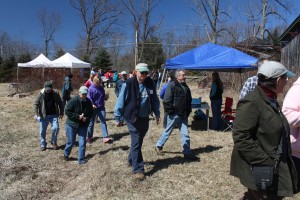 The public was invited for a special opportunity to walk the fields and learn more about the last step in preserving Wendemuth Meadow for all time.  The Town of North Brookfield will purchase a Conservation Restriction to permanently protect the property from additional development. North Brookfield will apply for a state L.A.N.D. grant that will cover most of the cost. EQLT and the Friends of Wendemuth Meadow are raising the local match portion, which includes $50,000 from individuals and corporations. Over $11,000 is committed so far, but we need your help.
Another organized walk at Wendemuth is scheduled for Saturday May 3rd from 1 p.m. until 4 p.m. Please join us. We'll have Wendemuth Meadow t-shirts for sale, and the proceeds go to support conservation of the property.
Also, a BioBlitz is scheduled during the day on Saturday July 12th. A BioBlitz is an intensive one-day survey of biodiversity in a specific area. This activity will bring trained naturalists, volunteer citizen-scientists and outdoor enthusiasts together for a common goal. We will organize into small groups, each with at least one expert, and search for all types of plant and animal  life:  birds, mammals, amphibians, reptiles, insects, spiders, aquatic invertebrates, trees, shrubs, herbs, mosses, mushrooms, and anything else we might find! Everything we find we will attempt to identify and catalog, so that by the end of the day we have a good cross-section of the life in our preserves. Contact Nate at servicelearning@EQLT.org if  you want to participate.