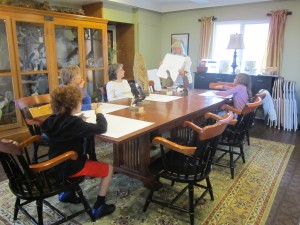 On Saturday a small but serious group pulled out the paper and pencils and got to work.  The cabinet was opened and out came the birds.  A barn owl, pileated woodpecker, and nighthawk were some of the specimens used as inspiration.
Ann Barrett Hicks lead the artists through several exercises focusing on the drawing styles of gesturing and blind contours. Gesturing is a style where your hand stays in motion capturing the sweeps and folds of the bird, not trying to precisely imitate the outline or details.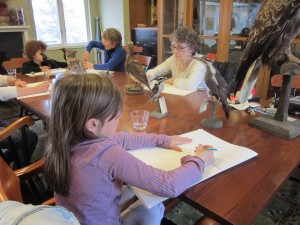 The technique of blind contours is a detailed drawing of a small part of the bird, maybe the wing feathers or tail or beak.  The trick is that you can't look at your paper. Both techniques create interesting drawings and participants can take those styles home to keep practicing their skills.
The mounted birds are part of the Warren Tyler Collection housed at EQLT's headquarters originally from the Haston Free Library in North Brookfield. We had a great time and plan on getting together again in the coming months. Hope you will join us next time!