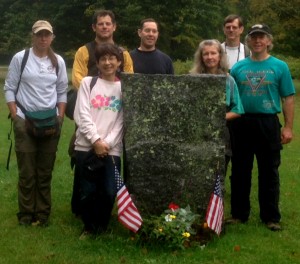 Today our long-distance hiking group walked about nine miles progressing along the east coast of the Quabbin Reservoir. We started at Gate 40, passing through the Dana Common, stopping to read the memorial marker that is covered with lichen. The rain held off, but the grass was wet and periodically the trees shed their water. Fortunately rain coats weren't required today!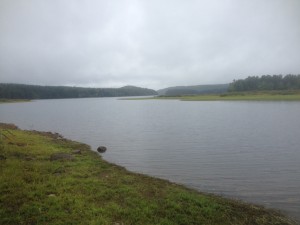 After visiting Dana Common we climbed north along Whitney Hill Road and then walked down Camels Hump Road to the reservoir. Stone walls and empty cellar holes followed us along the way. There was one area with a handsome curved wall marking a special spot for prior residents.
Down at the shore we sat for an early lunch. Two loons and another diving duck were spotted, along with two fishermen in a boat. A beautiful location for lunch!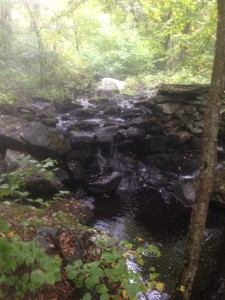 After retracing our steps for a couple hundred yards we found the unused road to Rattlesnake Hill. At the bottom we crossed the east branch of Fever Brook, just below the dam. Some of the stones in the dam were huge. This would be a great spot on a hot summer day!
Though the wildlife sightings were sparse, probably because we were talking too much to possibly sneak up on any unsuspecting birds or mammals, the scenery was wonderful. We encourage you to explore the area yourself.
The fourth and final segment of the east coast hike will be on Sunday, October 26th. We will meet at Gate 31, then carpool back to Gate 37 to start the hike. The walking distance is approximately seven miles. Please join us! If you have any questions contact Cynthia at chenshaw@EQLT.org or 413-477-8229.