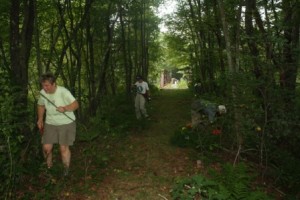 It was hot and humid yesterday out along the Ware River. With an early start our crew of dedicated volunteers made huge progress at the rail trail.
The first wave of trail clearing removed all the brush for half the distance from the pony truss to Wheelwright. Next step is to remove the old ties and then continue pushing back the brush and trees to widen the usable space along the trail.
Bridge decking timbers are fully installed on the new beam bridge section and more were delivered onto the pony truss ready for the next work day. If you are available next Saturday, please come help continue the great work begun to open the rail trail to Wheelwright.