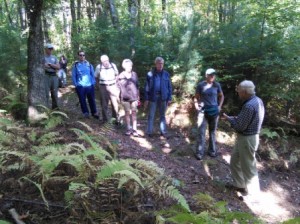 Today a group of folks from all over the east Quabbin region converged on the Swift River Reservation to see the sights and walk a few miles through the woods in Petersham.  Bob Clark treated us all to stories about the property – who used to live there, why there was a dam along the Swift River, how the property came to be protected and trails created. It was a real treat.
There were a few wildlife sightings, including some good sized brook trout and a bald eagle soaring northward up the valley. Beaver and porcupine left signs of their work in various locations along the trails. We witnessed evidence of the 1938 hurricane which blew most of the trees down. Did you know that there was 18″ of rain in Petersham from that hurricane?
We encourage you all to take a trip to the reservation and explore part of Petersham when you have time!