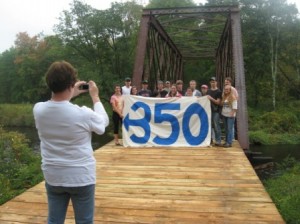 Students from Quabbin Regional High School spent their Saturday morning at the Hardwick/New Braintree section of the Mass Central Rail Trail. The students were participating in Moving Planet, a day of events across the world intended to get people out of their cars and into action either walking, bicycling, or working to improve the opportunities to do both.
Most of the students didn't know that the Mass Central Rail Trail went through the communities in which they live. Now they can say they had a hand in opening up the rail trail that ultimately will run 104 miles from
Northampton to Boston. The section in Hardwick and New Braintree that the East Quabbin Land Trust is working on is 3.2 miles and includes four bridges.
The students started laying down the deck timbers and others clipped back brush and weed whacked around the other bridges. Their work combined with two passes of the brush mower is keeping the ever-increasing vegetation down at the edges. The students completed twenty five feet of decking in two hours and worked out a system for the simplest installation process. Very impressive!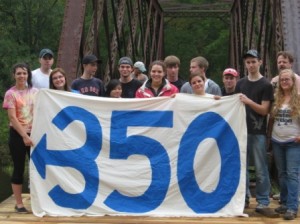 We're hoping to schedule the next workday to continue laying down the timbers for Columbus Day weekend. If you're available, please email Cynthia at chenshaw@eqlt.org. Funding for rehabilitation of the lattice truss bridge is from the Mass. Recreational Trails Program and supporters of the East Quabbin Land Trust.