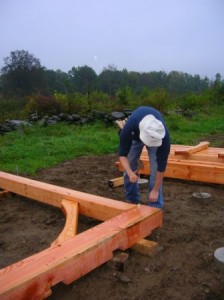 Despite the rainy weather on Saturday, the hearty crew of volunteers successfully raised the platform for the Chris Ellison Memorial Birding Platform. The platform is a post and beam structure twelve feet off the ground. The view will be incredible! We'll add pictures once it's finished and open for use.
The first step is to peg together the main timbers. Then they were raised, with the aid of a tractor and pegged together to form the perimeter. Then the floor joists were hoisted aloft by strong backs and tall ladders.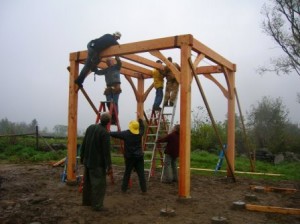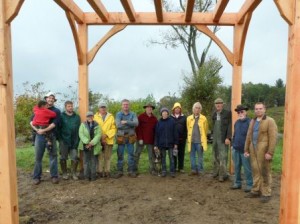 Many thanks to the numerous volunteers that helped make the birding platform a reality, including: Chris Buelow, Don Rich, Ginny Rich, Newell Shinn-Pledger, Ridge Shinn, Raymond Walker, Rod Leehy, Larry Crockett, Conner,  Lindsay Ellison, Steve, Bill, John Jones, Ed Richter, Brian, John Tomasi and Jerry Reilly.