The weather this Columbus Day weekend was beautiful and the volunteers fantastic! So much work was accomplished that the decking on the lattice truss bridge is 2/3 finished. Thanks go out to everyone that helped, including  Samantha Bertrand, Evan Bonenfant, Jared Bonenfant, William Bottomley, Ric Craig, Bill Crowther, Leland Crowther, Greg Davis, Danielle Egan, Cynthia Henshaw, Judith Jones, Ashton Lenpold, Ian Mattson, Mark Mattson, Garrett Reilly, Don Rich, Ginny Rich, Rick Romano, Tanner Stuart, Sarah Wells, and Dean Zuppio.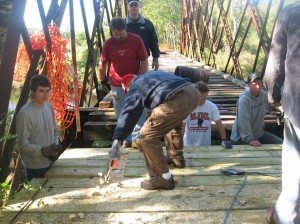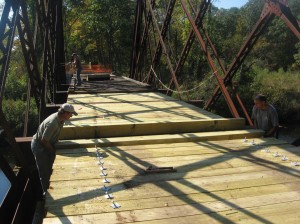 The next work day to lay down timbers will be Sunday, October 23rd starting at 9am. We'll meet at the West Road entrance to the rail trail in New Braintree.
Please join us! And let Cynthia know if you plan to come. Thank you!