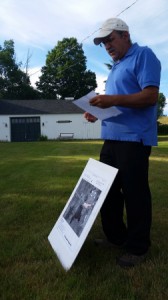 The Hunter family has owned the land since the mid-1700s. There are at least four hay fields, several pastures, an apple orchard, a tremendous marsh, and woods. A big section of woods is mixed hardwoods, like oaks, maples, ash, and cherry. A few American chestnut sprouts are still growing, showing that the land once included these majestic forest giants. There's also an area of deep hemlock woods.
Forester Jim Dimaio took us on a walk to see and explain some of the changes over the past year. Two things jump out. First are big piles of logs, mostly on the smaller side that look like firewood quality. Second are the skeletons of multiflora rose along the roadside and field edges. They've done a treatment for invasive plants. The two key invasive plants on the Hunter Farm are multiflora rose and bittersweet. We walked into one of the treated areas and could see where the "mature" plants were, but also some new sprouts were coming up. A second treatment is planned in July, with possibly a third later in the season. By repeatedly treating the area, the number of new plants is reduced and it's possible to control with much less effort.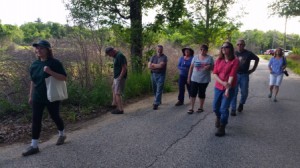 The woods were harvested multiple times over the centuries, unfortunately the remaining trees were not of high quality and weren't growing quickly. Jim knew that because he aged the trees by taking cores and counting the rings. The outermost rings show the recent growth pattern. If those rings are tight together, then the trees are not growing well. A clear indication that the trees are cramped. It's very similar to gardening, where you leave every fourth lettuce plant, removing the ones between to make sure they grow quickly and to full size.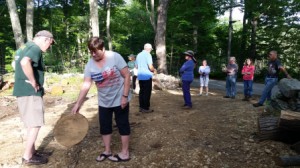 With the timber harvesting completed, the Hunter family can now access and explore all corners of their family land! The changes are dramatic, from an overgrown woods and impenetrable field edges to a more open landscape. Under the guidance of Jim Dimaio the family is ready to continue stewarding their newly found land.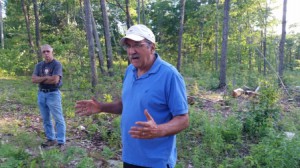 This walk was a partnership between the East Quabbin Land Trust and the MassConn Sustainable Forest Partnership, with funding from the US Forest Service through an LSR grant.