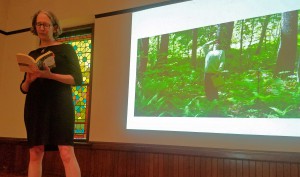 Lynda V. Mapes spoke during our Annual Membership Meeting and shared her book Witness Tree. The book uses a century-old red oak to tell the story of our changing climate.
As a Bullard Fellow at the Harvard Forest, Lynda got to dive in deeply with "her" witness tree, the network of scientists and community members in Petersham, and the old technology used in new ways that is informing the science of how the trees in the woods are reacting to a climate with more CO2, the vital element for photosynthesis.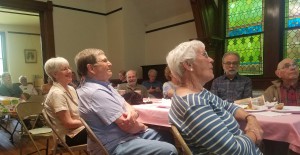 In fact, one of the things learned is that red oaks are among the plant species growing at a faster rate and being more efficient in their growth. Leaf-out in spring averages five-days earlier than just 25 years ago. With a longer growing season and more CO2 in the air, red oaks don't need to open their stomatas as wide or as long as before. Meaning that they don't lose as much water, and are more efficient in photosynthesis. The inter-related dynamics is really complex. Scientists are  hard at work to better understand these changes that are having a dramatic impact on the natural world, and will influence human society too.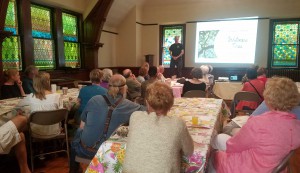 The meeting was held at the Big Stone Church in Gilbertville. Thank you to The Friends of the Stone Church for letting us enjoy the wonderful space.