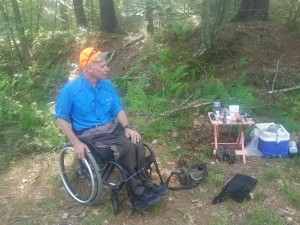 On Saturday, June 30th the East Quabbin Land Trust hosted a Wheel-A-Thon at its section of the Mass Central Rail Trail in New Braintree and Hardwick. The rail trail is flat with a firm surface, giving everyone a chance to get out into nature. "Our goal is to introduce the rail trail to people who need wheels to get around, whether that's people who use wheelchairs or families pushing youngsters in strollers. This is a safe and interesting trail to enjoy," said Mark Mattson, the originator of the Wheel-A-Thon event.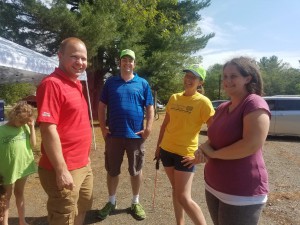 The heat and humidity didn't deter folks from coming out to explore the rail trail with friends and familiy, learning about the area in the process. Stations along the trail included, 1) Ken Carlson, sharing the tools and tips he uses when going out in the woods in his wheelchair, 2) Brad Blodgett, recounting the railroad history and fun facts about the area, 3) Ross Hubacz, warming people up as they cored a nearby tree and read the rings, and 4) Dick Reavey, showing his fly-fishing ties and equipment at the edge of the Ware River.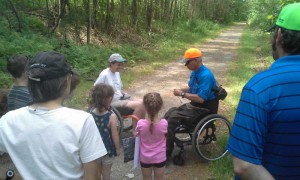 Visitors could also read a story about Wood Ducks (by Hope I. Marston and Maria M. Brown) as they made their way along the trail. We've seen wood ducks along the Ware River and installed nest boxes to support breeding pairs.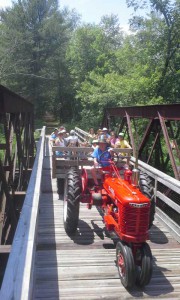 Many thanks to former State Senator Stephen Brewer for taking visitors on wagon-rides. Driving through a tree-lined trail, crossing the historic pony truss bridge and seeing things from a new height is a great treat! Also, thanks to all the volunteers that made the Wheel-A-Thon possible, with an extensive appreciation for the planning committee members – Ken Carlson, Tom Clough, Ashley Dziejma, Cynthia Henshaw, Mark Mattson and Dick Reavey.
Go out for a roll or walk! The main parking area is at the location of the former New Braintree train station, on Depot Road – the short cut-off road between Hardwick Road and West Road in New Braintree. GPS 1700 Hardwick Road to get to the access point. Parking at either end of the 3-mile rail trail is also available at the end of Maple Street in Wheelwright or just below the active railroad line on Creamery Road.