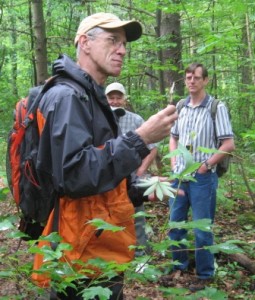 Last Saturday turned out to be a beautiful day. Great for a hike in the woods to explore what's growing in the Oakham Wildlife Management Area. We found a bunch of stuff, more than I can remember, but around every bend was another interesting plant with blue berries, or edible roots, or twigs that were chewed to help with dental hygiene. That last plant was a black birch; if you peel off the bark of the twig and start chewing you'll get the wintergreen flavor and be releasing special chemicals that help prevent plaque!
After walking about a half mile, we jumped off the trail and headed into the woods. The undergrowth wasn't super thick, but there was plenty of shrubs to walk around and branches to climb over. At the bottom of the slope we hit the wetland edge. It wasn't too bad, hoping from one mossy hummock to another. Once we got into the center of the wetland the footing was more stable. We were all looking for the "Wonderful Old Trees", the 500+ year old black gums. For those of us with untrained eyes, we were right at them before we realized what they were. It's remarkable that they aren't larger, but they don't grow really fast with their feet in the water. The bark is quite remarkable looking. One side, often the north side according to Tom Rawinski, is much thicker with deep indentations. It was fascinating to see and feel.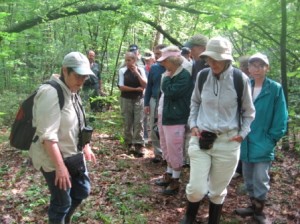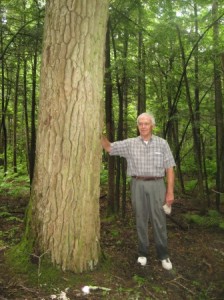 The East Quabbin Land Trust and Oakham Open Space Committee co-sponsored the walk to draw attention to one special place in Oakham that is permanently protected from future development. There are many other spots in town that have great trails, include unique plants and animals, and have beautiful waterways. Many thanks to Ron Wolanin, Tom Rawinski and Caren Caljouw for leading the walk.