North Brookfield, MA – The East Quabbin Land Trust is excited to announce our second major species inventorying event of the year, this time at the gorgeous and grassy Wendemuth Meadow Preserve at 25 Bates Street in North Brookfield. In order to ready this new preserve for public recreation, and to give residents the opportunity to experience this serene and scenic property, EQLT will be hosting a BioBlitz on Saturday, July 12th.
"A BioBlitz is an intensive one-day survey of biodiversity in a specific area," says Nate Grady, service learning coordinator for the East Quabbin Land Trust. "This is an especially neat activity as it brings all levels of outdoor enthusiasts – from trained naturalists to people who just like to explore and get a little dirty – together for the common goal of finding and identifying as many creatures as possible."
Beginning bright and early with a bird walk, we will explore this preserve throughout the morning, as different species become most active. Broken down into small groups, each led by an expert, we will search for all types of plant and animal life:  birds, mammals, amphibians, reptiles, insects, spiders, aquatic invertebrates, trees, shrubs, herbs, grasses, mosses, mushrooms, and anything else we might find! Everything we find we will attempt to identify and catalogue, so that by the end of the day we have a good cross-section of the life in this preserve!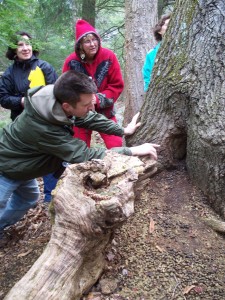 At 1pm, we'll kick back and enjoy a potluck lunch while comparing notes about our most exciting discoveries! If you think you might want join in the fun, or just want more information, email Nate at servicelearning@eqlt.org. Participants are welcome to come for all or part of the day, and people of all backgrounds and knowledge levels are strongly encouraged to join us!
All of this is made possible through the productive three way partnership between the Town of North Brookfield, the Friends of Wendemuth Meadow, and the East Quabbin Land Trust, along with the consistent and irreplaceable support of many local and regional volunteers.
This BioBlitz is the 12th event in the 2014 "Outdoors in the East Quabbin" event series. For more information about this or other volunteer opportunities with EQLT, please contact Nate at servicelearning@eqlt.org, or call the EQLT office at (477) 413-8229.