Join us for the 2nd Annual Country Store Festival Planned for Petersham
Music, Kids' Games, Potluck Supper, Community Auction to Support Renovations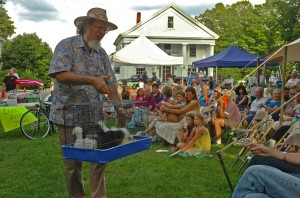 (Petersham, Mass.)—On Saturday, July 26, a regional festival to benefit the Country Store in Petersham will kick off at 3:00 pm on Petersham Common with kids' games, music, yak bingo, live and silent auctions, and more. Hosting the event is the East Quabbin Land Trust (EQLT), which purchased and renovated The Country Store building interior in 2013 with extensive support from the local community. The Store re-opened as a café and local grocery in May 2014 under the management of Ari and Jeanneane Pugliese.
"Last year, hundreds of people attended the 'Restore the Store' event," says Cynthia Henshaw, executive director of EQLT, "Everyone enjoyed a great day and we were blown away by the generosity of everyone that came to support re-opening The Country Store. This year we have a 1:1 matching challenge grant for $15,000 to complete exterior repairs and repainting of the historic building." A live and silent auction during this year's festival will feature a wide range of items including seven days and nights at a lakeside home in Sandwich, New Hampshire; original art; and a variety of local services, food items, and gift certificates.
"Just in the past month we've witnessed the resurgence of The Country Store as an anchor of community life in Petersham," says Mick Huppert of Petersham, and EQLT board member. "We want the beautiful building built in 1840 to remain something we can all be proud of. And of course we hope everyone comes on July 26 and has lots of fun."
The event will feature a great assortment of kids' activities, including a Peak Adventure climbing wall open from 3:30–5:30 pm, dunk tank, face painting, relay races, obstacle course, Make Your Own Country Store craft table, and much more. A pair of yaks from a Petersham farm will play starring roles in two rounds of Yak Bingo.
The bandstand will carry live music by Jamie Hatch, Liam Regan and friends, along with DJ music with Shawn Legare. A community potluck supper begins at 5:00 pm. Visitors are encouraged to bring a dish and serving utensil to add to the community potluck. The silent auction runs through the afternoon and the live auction begins at 6:00 pm. The movie Frozen will be screened in Town Hall at 7:00 pm.
The festival will be held rain or shine under tents on the Petersham Common and in Petersham Town Hall at 1 South Main Street. A festival schedule, auction catalog, and ticket information for the yak plop raffle will be available at the East Quabbin Land Trust website, www.eqlt.org and on the Country Store's Facebook page: www.facebook.com/TheCountryStoreinPetersham.