After the snow and freezing rain of the last week, there was concern about the trail condition today. Fortunately, the Mass Central Rail Trail turned out to not be too icy, though you had to be careful crossing the bridges.
Over thirty people came out on New Year's morning to start out 2016 with a hike at the rail trail. Folks came from all different places, including Barre, Hardwick, New Braintree, Oakham, West Brookfield, East Brookfield, Palmer and West Boylston. For some, it was their first time exploring this section of the rail trail.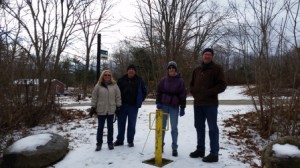 Most everyone walked to Creamery Road from the parking area at the former New Braintree train station, nearly 4 miles. A smaller group also walked the mile over to Wheelwright and back. Everyone had a great time outdoors to start the year off, and we all got to meet new people.
If you couldn't make it today, not to worry. Head on over to the rail trail for a walk whenever you have time!