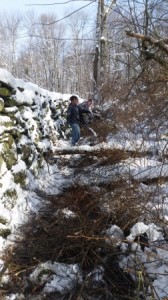 Even though the ground was covered with snow from Friday's storm, Rod, Linda, Tom, Jason and Cynthia worked at the Coxhall Kitchen Garden clearing the outside of the "Noble Wall" on Saturday morning. The north, east and part of the south side were engulfed in downed trees, young saplings, Japanese barberry and multi-flora rose.
Well, now you can walk around the wall!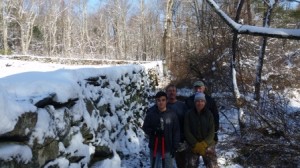 When the snow melts, we'll need to get back out there and clear out the wood that was frozen in and use brush cutters to remove more of the Japanese barberry.
Huge progress was made. Thank you to Rod, Linda, Tom, Jason and Cynthia for their hard work.