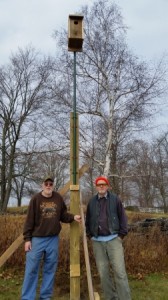 Last week Harrison, Jeff and Jake installed a new kestrel box at Mandell Hill. This one is a prototype for many more to come. With Jeff's enthusiasm the goal is to get 50 kestrel boxes up around the East Quabbin region in the next three years.
This box, designed by Harrison, should be easier to clean out and inspect because it's mounted on a telescoping pole. Next spring we'll see if the kestrels agree!
If you know of any spot with about 20 acres of open fields where a kestrel box can be installed, please get in touch with us at 413-477-8229 or chenshaw@EQLT.org.