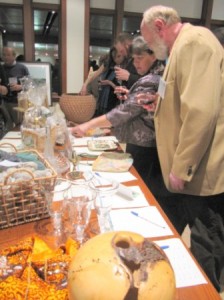 The Eleventh Annual Dinner and Silent Auction last Saturday night was a great success! With over 200 people in attendance, it was the biggest crowd to date. People came from throughout the East Quabbin region, representing all eight towns plus others across the area.  Everyone had the opportunity to make new friends, renew acquaintances and greet old friends.
A big thank you to our sponsors, including: New Harbor Financial, Country Corners Storage, Cultural Center at Eagle Hill, Dresser and McGourthy Attorneys at Law, FamilyFirst Bank, Five Star Services Plumbing, Hardwick Sugar Shack, and Rose 32 Bread.
The evening included toasts to Magi Durham Ziff and Ray Buelow, two good friends of the land trust that passed away in 2011 and are dearly missed. We celebrated the many successes of last year, especially with the conservation of the McRevey Family Trust property of 324 acres in West Brookfield that is now the West Brookfield Wildlife Management Area.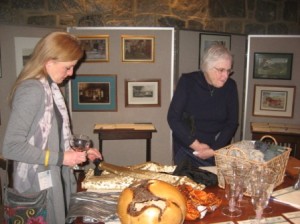 Several coming activities in 2012 were highlighted, including:
1) Book discussion of The Nature Principle by Richard Louv,
2) Frohloff Farm Youth Garden,
3) Conservation of Landworks Farm in Petersham,
4) Preserve Steward volunteer training, and
5) Station Loop Ramble 5-mile race.
The evening was rounded out by a performance from the Band of Voices, who shared several songs that focus on our connection with the land. In addition, the song "This Land is Your Land" was debuted with regionally associated words written by Sam Wels, which is the East Quabbin Land Trust's new theme song.
As a fundraiser the evening was a terrific success! The silent auction raised over $12,000, thanks to the many donations of incredibly diverse and interesting items available. In addition, a 1:1 challenge to the audience was made and encouraged over $15,000 in additional pledges to support the East Quabbin Land Trust.