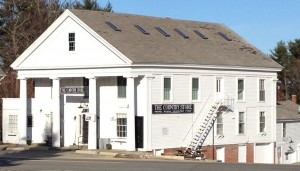 The East Quabbin Land Trust has stepped forward to coordinate and complete the purchase of the Petersham Country Store building from its current owner, POLUS, Inc., which is expected before the end of June.  "This is a very exciting opportunity for the East Quabbin Land Trust to support the Petersham community and local agriculture by assisting with the reopening of the Country Store," stated Mick Huppert, EQLT Board Member and Petersham Resident.  A number of local residents coordinated this effort with the East Quabbin Land Trust to make this possible.
The Petersham Country Store has long been at the heart of Petersham, serving as its main store and gathering place located at the center of the community, catering to residents and visitors alike.  When the Country Store doors closed in 2012, that loss was felt throughout the community.  The idea is to return this building to the center of community life.  Please join us for a public meeting scheduled for Tuesday June 11 beginning at 7:30 pm in the lower level of the Petersham Town Hall to discuss the anticipated changes coming at the Country Store.
It has taken the combined efforts of a small group of concerned neighbors to bring the Store to a place where it might re-open.  Going forward, it will require the patronage and support of a broader group of customers to make the enterprise work as the home for a rejuvenated Store.  So all are invited to join with Petersham townspeople in this exciting venture!