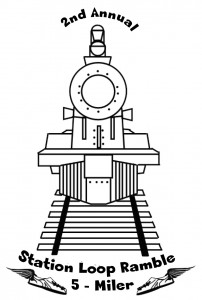 Next weekend is the Second Annual Station Loop Ramble 5-miler. The weather has been great, and we're hoping that continues with bright sunshine and crisp air next Sunday as the runners line up for the 10 am starting gun.
RUNNERS WANTED – VOLUNTEERS NEEDED
The starting gun goes off at 10am sharp! Come join us as a runner or spectator. This is a hilly road and trail race with a flat fast finish on the Mass Central Rail Trail.
Race begins and ends at the site of the former New Braintree Train Station, travels past scenic farmland, and through deep woods, and skirts the Ware River. Adults must accompany children running this course. Each mile is marked and mid-run water stop provided. Post race refreshments and free raffles to all entrants.
Entry fee: $20.00 per adult – $10.00 for children age 13 and under. All fees are non-refundable.
Registration: Begins at 8:30am and ends at 9:30am on October 13th. Click here to get the registration form. More information is here. To volunteer or for more information contact Cynthia at 413-477-8229 or chenshaw@EQLT.org.