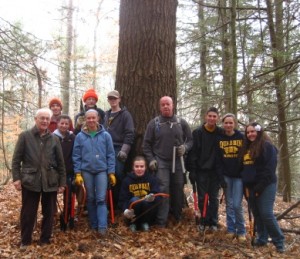 Have you been hearing and reading about all the wonderful things that young people are doing with the East Quabbin Land Trust? Gardening, trail building, kiosk and bridge construction, historical research, computer mapping and more!! Young people are digging into the mission of the East Quabbin Land Trust and making a difference. We are grateful for all their time, energy and enthusiasm.
Our Service Learning Coordinator is an integral part of encouraging youth to get involved with the East Quabbin Land Trust. We're looking for another bright, engaged college graduate that wants to get some experience in the land conservation and stewardship arena over the next year – and make a difference in their world!
Look under the 'About Us' tab for the page on the Service Learning Coordinator position for more information, or click here.