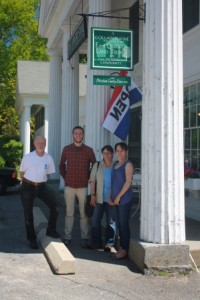 Yesterday several East Quabbin Land Trust folks made the short trek to Petersham to enjoy lunch at the newly re-opened Country Store. By the time we arrived Ken Levine had already hung the sign on the column "A Collaborative Project of the East Quabbin Land Trust and the Petersham Community".  Thank you Ken! A testament to the work and dedication of Petersham residents and the land trust in securing the building and renovating the interior.
Residents and visitors alike have been flocking to the store to have breakfast or lunch and buy a wide variety of groceries. Go check it out for your self!
We are also working on a map and display that highlights local places to walk and get outdoors. More on that in the near future.
Also, join us on the Common for the Country Store Carnival on Saturday July 26th from 2pm through 7pm. This fabulous community event will feature:
a huge kids area with climbing wall, obstacle course, face painting, relay races, dunk tank and other family friendly activities,
community potluck,
live music, and
silent and live auction.
Funds raised at the Country Store Carnival will match a $15,000 challenge grant from the Greater Worcester Community Foundation to complete exterior building repairs, such as pointing the chimney, clapboard and trim wood working repairs, and painting the exterior. We hope you will join us on July 26th.