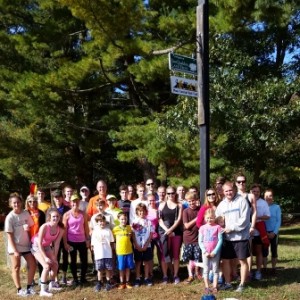 Last Sunday was a great day for a race. The fourth annual Station Loop Ramble  was another successful run that incorporated portions of the Mass Central Rail Trail in New Braintree and Hardwick. Thank you to all the runners, over 25 volunteers that made the race possible, and of course race sponsors and prize donors!
Please download either or both of the following Power Point slide shows to give you a sense about how the morning went. We hope everyone comes back next year – October 9, 2016 – to join in the fun. Bring your family and friends too!
Station Loop Ramble 2015 – 5M and 5K slide show
Station Loop Ramble 2015 – Kid's One Mile slide show
Gold Level Sponsors:
Hardwick Sugar Shack and Senator Stephen Brewer
Silver Level Sponsors:
Country Bank, Rose 32 Bread, Craig Della Penna – Realtor, Spencer BANK and Hardwick Kilns
Bronze Level Sponsors:
E.P. Wine Propane, Raitto Engineering, R.N. Glidden Landscaping Services, Reed's Country Store
And the Quabaug Corporation Foundation made a direct contribution to the race.
Beverage Sponsor:
Hannaford
Parking Sponsor:
R.N. Glidden Landscaping Services
Prize Donor:
Clover Hill Country Store, Hardwick Farmers Coop Exchange, Hardwick Vineyard and Winery, Janine's Frostee, Mexicali Restaurant, Olympia Sports, Ruggles Hill Creamery, Salem Cross Inn, Teresa's Restaurant, The Centered Place, Workshop 13.