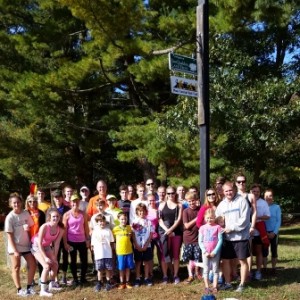 The Fourth Annual Station Loop Ramble went off without a hitch today under beautiful fall sunshine and mid-60s temperatures. Runners of all ages participated in one of three races, either the Kid's One Mile, 5 Mile Classic and 5K Run/Walk. Each race used part of the Mass Central Rail Trail as it passes through the Ware River valley in Hardwick and New Braintree.
Thank you to all who ran and those that volunteered at the race!
Thank you to our race sponsors for supporting the East Quabbin Land Trust and the Mass Central Rail Trail with their financial contributions.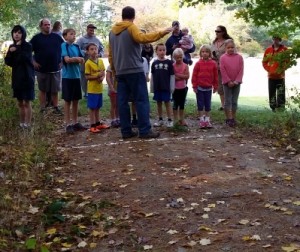 Gold Level Sponsors:
Hardwick Sugar Shack and Senator Stephen Brewer
Silver Level Sponsors:
Rose 32 Bread and Country Bank
Spencer BANK and Hardwick Kilns
Craig Della Penna, Realtor, Green
Bronze Level Sponsors:
R.N. Glidden Landscaping Services and E.P. Wine Propane
Raitto Engineering and Reed's Country Store
And special Thank You to Quabaug Corporation Foundation for a direct contribution to the race.
Thank you to the following businesses that provided prizes for the age class winners!
Hardwick Vineyard and Winery, Hardwick Farmer's Cooperative Exchange, Salem Cross Inn, The Centered Place, Workshop 13, Janine's Frostee, Teresa's Restaurant, Mexicali Restaurant, Ruggles Hill Creamery, Clover Hill Country Store, and Olympia Sports.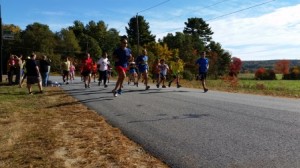 5-mile Classic Race Results:
| | | |
| --- | --- | --- |
| First Name | Last Name | Time |
| Matthew | Twarog | 29:14:00 |
| Ryan | Merceri | 31:28:00 |
| Benjamin | Morin | 32:56:00 |
| Simonettta | Piergentili | 35:03:00 |
| Haden | Haynes | 37:31:00 |
| Eugene | Rich | 40:17:00 |
| Graham | Stackhouse | 41:40:00 |
| Harrison | Lewis | 41:49:00 |
| Audrey | Snay | 42:03:00 |
| Nathan | Buzzell | 44:07:00 |
| Pamela | Clark | 44:27:00 |
| Jessica | Oleski | 46:08:00 |
| Nicholas | DeVrins | 46:18:00 |
| Elaine | Dill | 46:25:00 |
| David | Murphy | 47:21:00 |
| Dick | Murphy | 47:21:00 |
| Jennie | DiMauro | 47:33:00 |
| Robin | Henshaw | 48:43:00 |
| David | Broschart | 50:07:00 |
| Annie | Huppert | 52:11:00 |
| Kate | Huppert | 52:11:00 |
| Ginnie | Reed | 53:43:00 |
| Kianna | Romano | 56:21:00 |
| Siena | Romano | 56:21:00 |
5K Run/Walk Race Results:
| | | |
| --- | --- | --- |
| First Name | Last Name | Time |
| Brandon | Malloney | 21:55 |
| David | Maher | 22:11 |
| Morgan | Whitney | 23:38 |
| Christine | Nagy | 24:07:00 |
| Bailey | Metcalf | 25:48:00 |
| Blake | Lenhardt | 32:02:00 |
| Sara | Lee | 33:04:00 |
| SueKevin | BoronskiBradley | 33:22:0033:42:00 |
| Claudia | Broschart | 34:22:00 |
| Jaimee | Briggs | 38:21:00 |
| Linda | Pearo | 45:10:00 |
Kid's One Mile Race Results:
| | | |
| --- | --- | --- |
| First Name | Last Name | Time |
| Andrew | Twarog | 7:49:00 |
| Nathaniel | Henshaw | 7:50:00 |
| Seth | Twarog | 8:19:00 |
| Olivia | Breault | 8:45:00 |
| Carlee | Rich | 9:13:00 |
| Owen | Twarog | 9:38:00 |
| Harper | Bradley | 9:49:00 |
| Catelyn | Rich | 10:09:00 |
| Josiah | Henshaw | 11:18:00 |