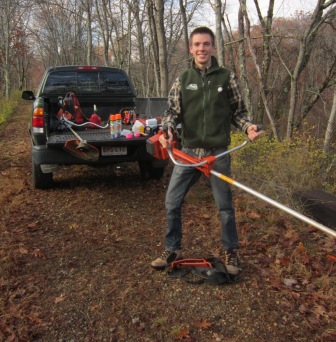 Trail clearing of the Mass Central Rail Trail is an annual expedition (if not more frequent) down the two-mile former rail bed bridging New Braintree and Hardwick. The trail runs past scenic hay fields, over the Ware River and through deep woods along the way. Visitors yesterday enjoyed the trail as they walked their dogs, got some exercise, and soaked in the river noises. The rest of us worked hard!
If you go for a visit, remember that it is hunting season, so please wear orange to announce your presence. Several hunters and their dogs were out in the area. We scared up a pheasant next to the rail trail as we worked our way towards Creamery Road.
On Saturday a dozen people packed up their tools and got to work. It had been two years since we focused on clearing brush along the four bridges in the EQLT section of Mass Central Rail Trail. Red maple can grow to ten feet in two years and bittersweet encircles all the other vegetation just as quickly without checking its progress. Success was had – mostly with loppers, but the string trimmer and chainsaw were handy too.  There was much good cheer and hard work all around!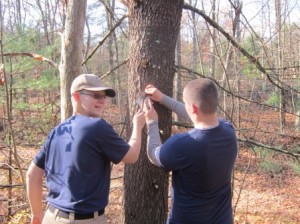 Students from Quabbin Regional High School spent most of the morning clearing brush. After lunch we shifted projects and walked the trail marking the boundary with orange spray paint and EQLT boundary tags. Thank you to Austin, Jacob, Angela, Samantha, Cole, Cloe, Amy, Chance, Kyle and Marshal.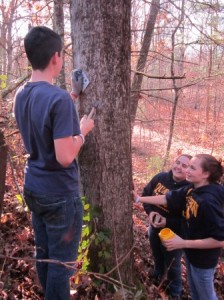 Special thanks goes out to Rod, Linda, Denis, Dane and Rick for assisting with some of the larger clearing projects and putting final touches on the bridge curbing!