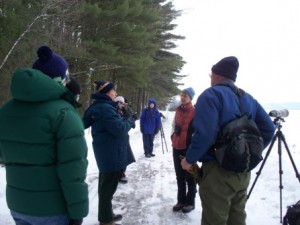 About twenty people congregated at Quabbin Gate 35 on Saturday morning. The snow flurries held off for the morning, so there was a clear view over the Quabbin Reservoir. Chris Buelow lead the group on our annual hike to look for bald eagles getting ready to nest for the season. Unfortunately the eagles were somewhere else that morning. But that just means that we'll need to head back out in a couple weeks and check again! The group did see two coyotes out on the reservoir, and fox tracks on the way in to the water along with a ravens nest.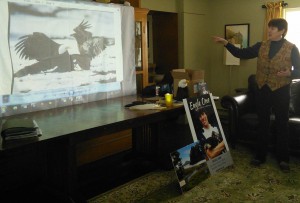 Bald eagles do nest at the Quabbin Reservoir; there are seven known pairs. Dianne Davis and her husband Bill Davis were instrumental in raising eagle chicks in the early years of their reintroduction to Massachusetts. Dianne recently published her memoir Eagle One: Raising Bald Eagles that chronicles the summer of 1985 when she lived alone at the Quabbin Reservoir raising eagle chicks.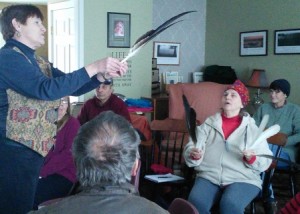 Dianne is a wildlife veterinary technician at the Ecotarium and also worked at Tufts Wildlife Clinic. Her memoir includes lessons learned throughout her career caring for eagles, polar bears, deer, squirrels, loons, owls and a whole host of other wildlife species that have needed rehabilitative care. Dianne's goal is to return the animals to the wild if possible, but she is also experienced with live animal presentations to educate young and old about the  many animals that share the planet with us.