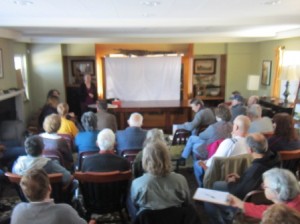 Nearly fifty people packed into EQLT's meeting space yesterday afternoon to learn about the history of the Frohloff Farm. Over the past year, Susan Gainley spent significant time working through the registry of deeds searching the ownership transfers since the original colonists claimed the land in the 1700s. She also spent time searching for wills, reviewing the History of Ware and Ware census information among other sources.  All of these pieces of information put together a picture of how the land moved from one family to another and how many people lived in the house and what products they made.
Here's some interesting pieces of her research:
1. For a period exceeding two hundred and seventy-five years, the property known as the Frohloff farm changed hands more than fifteen times.
2. The only family to own the farm through multiple generations was the Frohloff family. It was lived in by three generations for nearly one hundred years, from 1913 until 2007, before being sold to the EQLT.
3. Three times the farm was sold from one brother to another.
4. The longest any one family owned the farm before the Frohloff family was twenty-three years.
5. Eight men who once owned the farm died while in possession of it.
6. Two owners came into possession of the farm through marrying the widow of the previous owner.
7. According to census records the greatest number of people living in the house at one time was thirteen in 1840.
8. At least twice there occurred a shared ownership of the property, including the house.
9. Except for the last two generations of Frohloffs, all who owned the farm were farmers by occupation.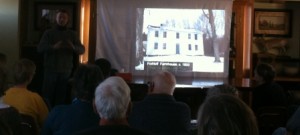 With pictures during the recent renovation coupled with his architectural knowledge of early building construction, Ed Hood placed the farmhouse construction in the Federalist period between 1780 and 1830. Ed shared details from Benjamin Asher's construction guide that provided builders with design patterns and details for fine homes of the era. The design guide included house layout choices and details for mantels, window and doors, and wainscoting among other architectural details. We know the current ell is an addition because in the attic the original main house roofing is still visible where the ell roof matches the house. However, there must have been a single story ell originally because sections of hand hewn lathing and other sections of machine made lathing uncovered in the current kitchen area. Plus the second door from the kitchen to the formal parlor has different trim that is not as fancy as the original entry. Ed shared these details, plus plenty more during the talk!