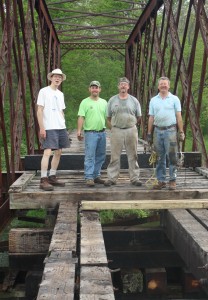 The hearty crew of Mark Mattson, Rod Leehy, Mike Stevens and Matt Kozoil "rolled" up their sleeves and swung three new blocks underneath the lattice truss bridge today. It was fabulous to see the blocks as they were dropped over the large wooden beams and then heaved into place.
First the corner of the bridge was jacked up to make room for adding new blocks. Come-a-longs and chains were essential tools in getting the 12″ x 12″ x 6 foot blocks safely over the edge of the old wooden beams and inserted into place. Those blocks finished bolstering the connection point between the lattice truss and trestle. A special thanks also to Rick Romano and Brian Klassanos who helped Mark and Rod install the first three blocks at an earlier work day.
Next step is to install the new beam bridge! We'll keep you posted about when that's going to happen.