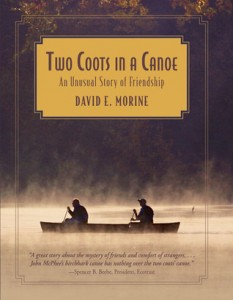 On Saturday night a small but enthusiastic crew convened at EQLT's offices ostensibly to talk about David Morine's book Two Coots in a Canoe. As with any book discussion I've ever been involved with, the conversation included remembered highlights from their adventure, but also roamed far and wide!
Here are some thoughts about the book…
The idea of canoeing the length of the Connecticut River, the longest in New England, had occurred to several book discussion participants. Of course, we would've done it the conventional way – camping every night and sticking to the river corridor. The trip that Bugsy and Ramsey took went beyond the river banks and into the communities along the way. We thought that staying with strangers a novel way to get to know the communities along the river.
I enjoyed the forays into funding land conservation and advice about how to ask potential funders for support! And we agreed that more details in that area would've been interesting to us as a whole.
The end brought great sadness to us all. I'm not a psychologist, so probably would not have understood the signs of depression in Ramsey had I been there to witness. But with 20:20 hindsight I'd hope to catch on. The six-pack requirement every day and anti-social behavior are clear depression indicators that I'll remember from now on.
Opening up ourselves to adventures can bring surprising results. It's most important to make the time and room to embrace the opportunities. While intellectually I can see the benefits, actually having the adventures are harder. As part of the East Quabbin Land Trust's 20th Anniversary Celebrations next year, we'll put some of these type of outdoor adventures on the calendar. Hope you'll make the time and space to join us!