We welcomed in 2015 with a morning hike along the New Braintree and Hardwick section of the Mass Central Rail Trail this morning.  About thirty people and half a dozen dogs explored the area under a beautiful sun and chilly breeze.
Along the way we talked about the rail trail, the origins of the Mass Central, possible connections of this three mile trail eastward into Barre and westward to Gilbertville and Ware. As each portion of the rail trail gets opened for public use the broader vision for a 104 mile rail trail linking Northampton to Boston and all the communities in between gets stronger!!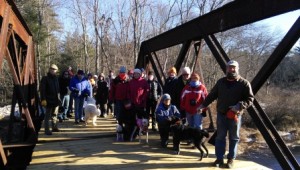 We also stopped at the historic pony truss that crosses the Ware River. Mark shared his knowledge of the bridge design, who invented it and the builder. A full article on the bridges will lead off our Winter 2015 newsletter and available in mid-January. Caren shared some of the botanical interests, including wild rice that grows along the river here.
The land trust is interested in getting feedback from users of the rail trail about how they are using the trail, what they like about it, and if they want to be more involved in the rail trail. If you haven't already done so, please take this quick survey by clicking here. If you do want to be more involved, please email Shelby at servicelearning (at) EQLT.org to get connected.