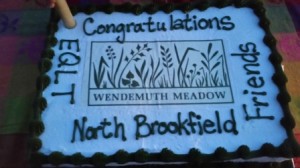 A lot of people volunteer many hours each year to ensure the success of the East Quabbin Land Trust! Without volunteers the land conservation projects, educational programs and on-the-ground stewardship work would not happen. Every year we celebrate you and your fellow volunteers. THANK YOU! And this year we also celebrate the official conservation of Wendemuth Meadow.
Last night we had a potluck dinner at Wendemuth Meadow. The food was tremendous – as most potlucks are! Green salads, home-made pizza, tabbouleh, local burgers, and a wide assortment of yummy desert items. Even s'mores roasted over an open fire pit.  No one went home hungry!
Volunteer with us this year and join the fun at our gathering next year! Your efforts will be rewarded, in many ways.