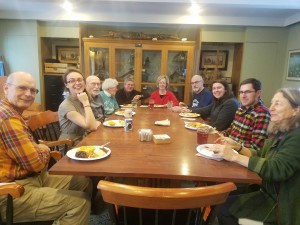 Our March potluck featured pulled pork, pork ribs, mashed potatoes, garlic bread, roasted vegetables and much more. Lots of great eats for all! Don't miss our next potluck on April 14th.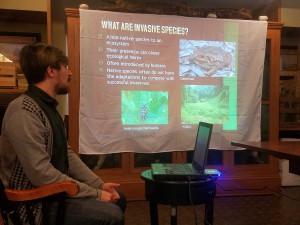 Then Joshua Bruckner, from Mass Dept of Agriculture brought us up to date on the Asian Long-horned Beetle infestation of Worcester. Fortunately, after almost 10 years of working on the problem it seems like the beetles are eliminated, they're pretty sure. Last year they only removed 16 trees and the quarantine area was not expanded.  But that's after removing thousands of ash, maple, oaks and other species that were infected. It was so many trees, that whole neighborhoods were transformed. It will take decades for the newly planted trees to grow large enough to provide the shade and habitat that was lost.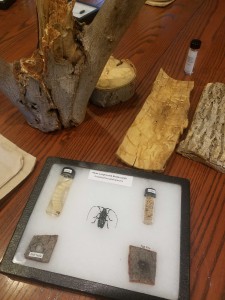 Invasive species are non-native to the ecosystem. It's those plants, animals, fungi, and other species that made their way to another part of the world, outside their natural range. In these new areas, these species can cause ecological harm. The really successful invasive species often reproduce quickly, spread easily and grow fast. And it's the ones that combine all of these characteristics that are the hardest to control.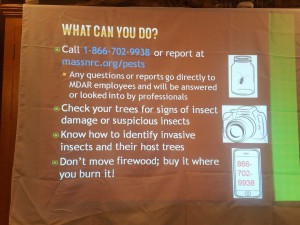 Fortunately, the Asian Long-horned Beetle doesn't spread quickly. While the infestation in Worcester was the largest in the US, because it went undetected for a long time, it is possible to eradicate the insects. The Emerald Ash Borer is another story. The borers spread quickly. They've already been found across the Commonwealth. There is little we can do but monitor the changes coming to our woods.