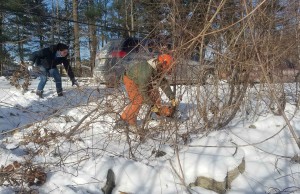 Our newest property, the Seven Acre Preserve, is a beautiful agricultural field on North Main Street in Petersham.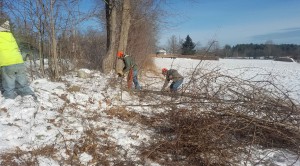 There is a stone wall running along the road, but has been overgrown with saplings and vines, blocking the view from travelers.
On Saturday a great crew brought their loppers, chainsaws and brush cutters to clear more of the wall. Next time you drive by, slow down and enjoy the view into the field. Many thanks to Rick, Haley, Jess, Tom, Ken, Chuck, Fraser, Mark, John and Cynthia for all your hard work!