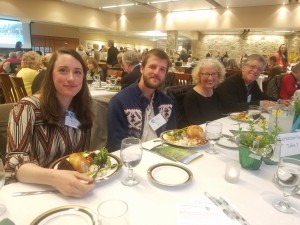 The 18th Annual Dinner and Silent Auction was another great affair. It's always a good sign when the noise volume in the room gets loud with conversation and laughter!
The musicians – Haley Hewitt, Bill Zinni, Bill Cole, Ken Levine, and guest banjo-picker Steve Brewer – shared their tremendous talents as guests joined the party and strolled through the Silent Auction items available for bidding.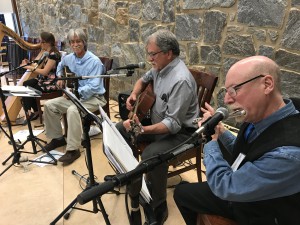 A special thanks goes out to Pam and Ray Robinson from Robinson Farm for donating their award-winning cheeses and Cindy and Glenn Mitchell from Rose 32 Bread for donating the delicious dinner rolls. The Eagle Hill dining hall staff, under leadership of Kathey Stone-Johnson, prepared a scrumptious meal. Lots of great compliments on the food, especially the scallops with shiitake mushrooms.
This year we proudly served locally produced beer from Lost Towns Brewing in Gilbertville and wine from Agronomy Farm Vineyard in Oakham. Attendees continue to rave about having great local beer and wine to share.
A big shout out to the event sponsors, including Pioneer Valley Environmental, Atlantic Capital Strategies, Cherie Benoit Realty, Berube Real Estate, Senator Stephen Brewer, Common Grow LLC, Country Bank, Cultural Center at Eagle Hill, Dresser & McGourthy LLC, Gilbert Players, Highland Press, North Brookfield Savings Bank, Raitto Engineering, and Rose 32 Bread. Please support these businesses and thank them for being sponsors of the East Quabbin Land Trust!