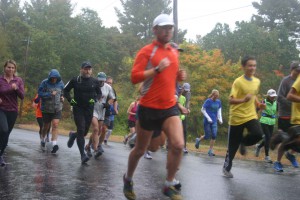 The 5th Annual Station Loop Ramble was a huge success despite the rain, that came and went all morning. Nearly sixty runners took off on the various races this morning – nine youngsters raced in the Kid's One Mile, twenty seven folks ran the 5-mile Classic around West and Unitas Road to loop back along the Mass Central Rail Trail, and twenty three people took off on the 5k Run/Walk along the rail trail and around the streets of Wheelwright!
Click here for a slide show of pictures from today's race.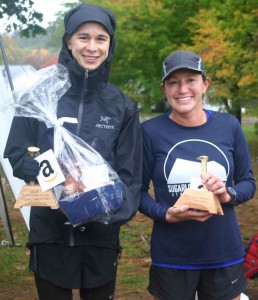 The course record for the 5-mile Classic was broken again this year, with a time of 28:53, by Patrick Caron.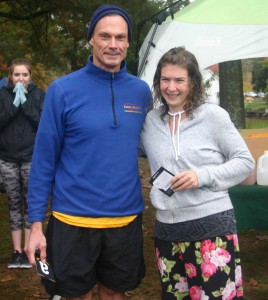 5-MILE CLASSIC
First Name
Last Name
Time
Town
Patrick
Caron
28:53:00
Needham
Matthew
Twarog
29:06:00
Hubbardston
Tom
Steele
30:57:00
Rutland
Matt
Lau
35:22:00
Petersham
Karla
Steele
35:22:00
Rutland
Morgan
Whitney
39:01:00
New Braintree
Max
Leroux
39:02:00
Barre
Gerard
Fallon
39:55:00
Hamilton
Gene
Rich
40:49:00
Gilbertville
Eric
Winn
42:36:00
Wakefield
Audrey
Snay
42:56:00
West Brookfield
Neil
McManus
43:05:00
Gardner
Chris
Laursen
43:16:00
Barre
Pamela
Clark
45:02:00
West Brookfield
James
Morrissey
45:08:00
West Boylston
Kathleen
O'Connor
45:12:00
Holden
Deb
Gauley
45:50:00
Plympton
Elaine
Dill
46:47:00
Monson
Keith
Gauley
47:35:00
Plympton
Chris
Powell
47:43:00
Melrose
Alan
Gray
48:19:00
Gardner
Jenni
DiMauro
48:41:00
Barre
Joseph
Haseltine
50:10:00
Lunenburg
Holly
Wielsma
51:23:00
Spencer
Paula
Ouimette
52:26:00
Gilbertville
Virginia
Reed
55:24:00
Ware
Jessica
Powers
56:19:00
Ware
5K RUN/WALK
First Name
Last Name
Time
Town
David
Maher
22:51:00
North Brookfield
Harrison
Lewis
24:08:00
Barre
Jennifer
Hache
24:59:00
Lowell
Bailey
Metcalf
25:17:00
Gilbertville
Sarah
McCue
26:45:00
Boylston
Jessica
Laprel
26:46:00
Framingham
Stavros
Gorgees
28:15:00
North Brookfield
Angela Amer
Moya
28:28:00
Hubbardston
Cristen
Comptois
29:46:00
Hubbardston
Olivia
Breault
31:22:00
Hubbardston
Paul
Breault
31:24:00
Hubbardston
Evelyn
Saunders
32:33:00
Gill
David
Broschart
32:49:00
West Brookfield
Blake
Lenhardt
34:23:00
North Brookfield
Amanda
Blakle
34:46:00
Gilbertville
Claudia
Broschart
34:52:00
West Brookfield
Lynn
Tupper
36:00:00
Barre
Louis
Gutterman
39:54:00
North Brookfield
Brandy
Murphy
41:44:00
Leicester
Sara
Subik
43:01:00
Barre
Josef
DellaGrotte
50:22:00
Barre
Meghan
Rodier
51:27:00
Jennifer
Bothwell
52:00:00
Somers, CT
KID'S ONE MILE
First Name
Last Name
Time
Town
Maxell
Lewis
8:20:00
Barre
Carlee
Rich
9:12:00
Gilbertville
Caitin
Rich
9:20:00
Gilbertville
Eric
Snay
9:53:00
West Brookfield
Connor
Snay
10:23:00
West Brookfield
Sadie
Ouimette
11:13:00
Gilbertville
Quinn
Ouimette
11:52:00
Gilbertville
Penny
Ouimette
12:52:00
Gilbertville
Timothy
Rodier
13:25:00