A huge thanks to the terrific crew of volunteers yesterday! All 52 railing posts and50 pieces of curbing were installed at the pony truss bridge spanning the Ware River between New Braintree and Hardwick! That's the first and second step to getting the railing completed.
Everyone hopped right on projects, hauling and rearranging the posts, marking and drilling holes, hammering in the bolts, measuring, cutting and lugging the curbing pieces, and of course, ratcheting on the nuts and washers. Adding it all up, we installed 4 bolts per railing post and 4 per curbing piece. That makes 408 drill holes, bolts, washers and nuts to put into place. Plus a lot of sore arms today! There were only a few miscues with a post facing the wrong way or a curbing piece that needed to be reworked. Those were solved and the installation completed.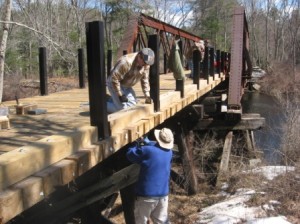 The next steps are the railings themselves. People are eager to get back to work and finish the project up, so we are planning to reconvene next Sunday morning, April 19th starting at 9am. Please join us if you'd like to be part of the effort!