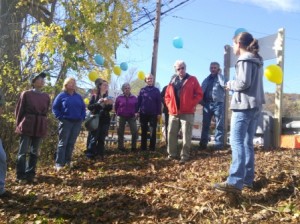 After a week of rain the Ware River was full! At least two kayakers paddled their way through the rapids near the Main Street bridge over the river in Gilbertville while a group of twenty officially opened the Fitness Trail.
Shelby, EQLT's Americorps Service Learning Coordinator, welcomed participants to the site. Creation of the fitness trail began last year in response to a call for proposals from Baystate Mary Lane Hospital for projects that improve the health and well-being of our community members. This was a joint effort between Baystate, the Town of Hardwick Conservation Commission and the East Quabbin Land Trust. Nate took the lead on pulling the pieces together last year, which culminated in getting the stations installed over the summer.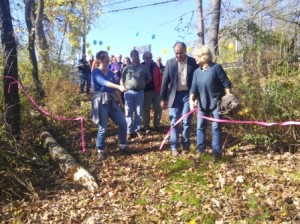 Last month, Shelby lead a work day to continue clearing brush and vegetation from the trail. Work on the trail bed will continue in the spring to fix some of the problem areas that are wet or eroded.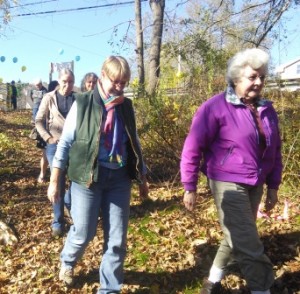 Visitors are encouraged to enter the trail at the yellow and blue gate on Main Street opposite the Hardwick House of Pizza. Walk along the trail for several hundred yards along the river and the trail will head upslope and connect with the rail trail bed. The ten fitness stations are spaced along a half-mile section of the rail trail.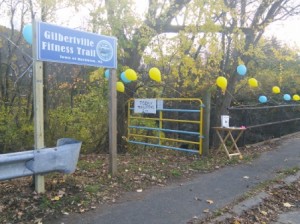 Some of the exercises are: calf stretch, hamstring stretch, bent knee hang, sit ups, leg raises, body raise, reverse pull up, and balance walk. Fitness information and heart rate checks are sprinkled through the stations to encourage healthy exercise.
On Halloween bring the kids down in their costumes from 4pm until 6pm to explore the trail and try the fitness stations. A volunteer will be at each location to help with the activity and provide a treat!