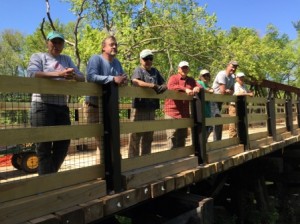 Today was a fabulous day to be outside. Thank you to Mark, John, Becky, Rod, Linda, Laura, Trevor, Harry, Denis and Bud for spending their day working at the pony truss bridge. This is a dedicated and hard-working crew!
The wind was blowing just enough to keep the mosquitoes at bay and we enjoyed the warmth in the sun. Several kayakers paddled by as we were cutting boards and screwing them into place. We had lunch at the newly installed picnic table by the bridge.
The railings are several steps closer to completion! Today we installed the coated wire mesh and facing boards to hold the mesh to the posts. Now the railings are safe, especially for little kids who like to poke their heads through small spaces. With the wire mesh up none of those are left. Last step is to install the railing cap – 2″x10″ – along the top. It's all coming together very nicely. Thank you to all who have helped rejuvenate the pony truss into a safe rail trail bridge!