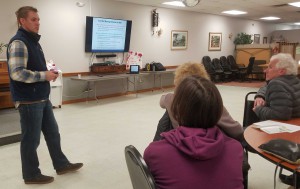 David Stainbrook shared the latest news and updates about Moose and Deer in Massachusetts with over 40 people at the North Brookfield Senior Center Thursday evening. David is the Program Manager for Deer and Moose at MassWildlife. The audience was actively engaged in the presentation, with many questions after each presentation.
We first learned about how moose in Massachusetts are at the southern limit of their range, and the warmer weather adds stress. Besides vehicular accidents, two other factors are impacting the moose population – brainworm and winter ticks. We don't really know how many moose have brainworm and how it affects their longevity, but the combination of moose and deer living in the same area increases the amount of impacted moose. Further north, where there aren't deer, brainworm does not appear to impact moose. Similarly, winter ticks don't survive in areas with snow still on the ground in early April. The winter ticks are a problem because they stay on a moose from the fall through early April, drinking blood the whole time. And when there are 30,000 ticks on one moose, that's a lot of energy spent feeding ticks, rather than growing. The first reported case of a moose found to have perished because of winter tick infestation was in 2014 in Hardwick. The moose population seems to be fairly stable and currently there is no hunting season for moose in Massachusetts.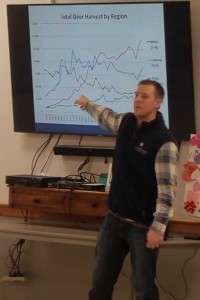 Second, David shared population figures about White-tailed deer across the state, which MassWildlife has divided up into 14 zones to track and manage their populations. The target population size is between 6 – 18 deer per square mile. The central and western part of the state are within that range. The eastern part of Massachusetts (basically the I-495 belt easterly) is above that range, with highest concentrations on Martha's Vineyard and Nantucket, followed by the Cape. The declining number of hunters and limited places where hunting can legally take place are significant factors in the deer population rise over the past two decades. One action that is being proposed is to expand the deer archery hunting season by two weeks in the eastern management zones, thus having 8 weeks of archery hunting. The hope is that more deer will be harvested, reducing their populations.