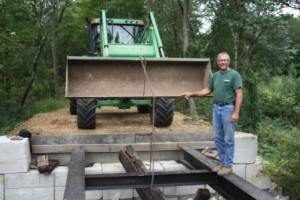 Yesterday the new metal bridge was lowered into place on the cement abutment, thanks to Dan Hanson and his mighty tractor. The front wheels got squished as the tractor lifted the heavy metal, but it worked perfectly and saved us several hours of jacking, then lowering, then rejacking, then lowering… Well you get the idea. It is a process to take the wooden blocks out from underneath the four corners of the new bridge.
This was the culmination of many stages (and there are a few more to come!). In late July Joe Bassett delivered the bridge that he'd welded in his shop. It came to the rail trail on his ramp truck, which was lowered down and with the aid of a metal pipe rolling along the wooden beams was centered over the span. Then the wooden beams had to be removed from underneath the metal bridge. Mark Mattson was the master-mind behind removing the beams and set of blocks at the river side of the bridge.
Now we're ready to make the final adjustments and bolt the bridge in place. Then for the decking. If you can help with any of this work please contact Cynthia.