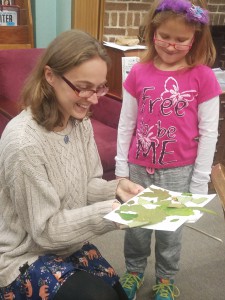 Haley Hewitt, our Youth Education Coordinator through the Americorps Terracorps program, held a leaf pressing art project today at the Ware Young Men's Library. Many young people came for this fun activity, a great way to spend a rainy morning!
Haley introduced the youth to different books that use leaves in their art work. Leaves make fish and grass, frogs and dogs, among other wonderful scenes.
The young people left with their own original piece of artwork and the inspiration to make more. All you need to do is go collect leaves of all shapes and sizes, press them in a book for a few days, then glue them onto paper in whatever creative ways inspire you. Enjoy fall!!