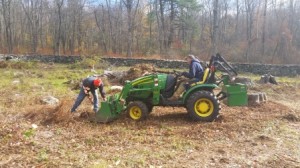 The last step in the Kitchen Garden cleanup happened yesterday, thanks to Harrison and his handy tractor, Jeff and Linda for much of the leg work loading the bucket and raking the ground smooth.
After the September workday where the vegetation was cut down, we still had piles of what was recently cut and left-over logs from the initial tree removal. Now the entire front half – that is the area along Simpson Road – is free of brush and most other obstacles. A couple stumps remain for the time being.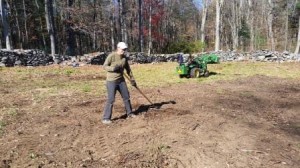 This is a terrific place to end the Kitchen Garden work for 2015. We'll be ready to brush hog the front half of the area in 2016 so that people can enjoy walking around the walled enclosure or having a picnic within the historic structure. Be sure to plan a time to walk the trails and end up at the Coxhall Kitchen Garden, trying to imagine what it must have been like in 1774 as a farm bustling with activity expanding to include a walled kitchen garden.