The East Quabbin Land Trust is extremely pleased to announce the recent purchase of the Frohloff farmhouse at 236 Church Street in Ware.  "With this acquisition, we are putting the farm back together into a viable unit that can sustain a vibrant agricultural enterprise," stated Jerry Reilly, EQLT Board Member.
Land trusts play a critical role in promoting meaningful agriculture within our service communities.  Protecting and providing viable farmland are critical pieces that land trusts are uniquely set up to do.  Sometimes more is needed.
Providing housing is a vital component to any successful farming venture at the Frohloff Farm.  Being close to livestock and produce is essential for successful farming, for instance, to ensure that watering and feeding can happen in the midst of winter storms; to allow for quick retrieval of escaped animals, or regularly engaging with visitors to the farm.  Integrating housing into the farming unit expands the diversity of potential farmers and saves their precious initial capital for building a sustainable viable farm business.  Although historic preservation may not often be associated with land trust activities, the preservation of historic landscapes and the relation of the built environment to the natural environment can be an important community signpost that a well-known and perhaps well-loved property is again being cared for.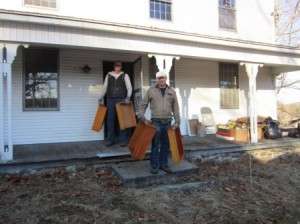 The East Quabbin Land Trust has identified a group of farmers interested in undertaking the rejuvenation of the Frohloff Farm. Starting this spring we will be leasing the farm to them with the expectation that farming practices will be in the form of a diversified family farm with crops, value added products (such as cheese and canned goods), and a traditional barnyard mix of income producing livestock.  As low-income farmers with limited capital resources, they have presented a strong, staged-growth proposal that includes a balanced mix of meat, egg, orchard and crop production enterprises that are thoughtfully tailored to build the carrying capacity of the land.
The farmers are led by an experienced farmer and agrarian consultant whose 25-year Cornell University background includes an undergraduate degree in International Agriculture, professional work in Community and Economic Development, and graduate work in Adult and Extension Education.  The remainder of the group is made up of second and third year beginning farmers.  Together, these farmers are passionate about community supported agriculture, holistic land management practices, and sustainable organic farming.  We feel that they have the knowledge, passion, business and management skills needed to enable Frohloff Farm to succeed in its mission.
Starting soon you will see more changes at the Frohloff farmhouse as contractors begin the renovation process.  The farmhouse has good bones, but lacks most features for modern living, including central heating, septic system, insulation and air tight windows and doors.  A new kitchen will be installed suitable for teaching sustainable, healthy food preparation.  New bathrooms will meet current building codes.  In addition, upgrades to the electrical and plumbing at the barn are essential for expanded use.
On Saturday February 2nd we are hosting our annual workday and bonfire at the Frohloff Farm.  From 3:30 pm until dark the Frohloff house will be open for visitors to view the house.  The bonfire with hotdogs and s'mores will start at dark.  We hope to see you there.