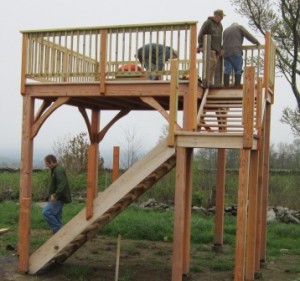 Generators were heard buzzing at Mandell Hill over the past two days as work on the Chris Ellison Memorial Birding Platform and a nearby stile were under construction. Great progress was made! By the end of this coming week we expect both projects to be finished.
Under the direction of master carpenter Greg Davis, the productive crew of Harrison Achilles, John and Jane Freeman, and Jim Cameron installed the rails, balusters and railing caps around the observation deck and started down the stairs. A big thanks to them for volunteering their time and expertise to get the platform ready to welcome property visitors just in time as bobolinks and meadowlarks get back to the fields at Mandell Hill.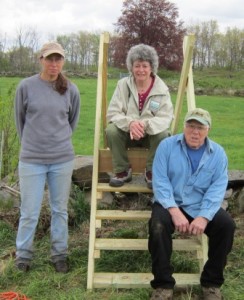 With the birding platform expected to be a highlight of everyone's trip to Mandell Hill, the blue diamond loop trail is being rerouted to include the platform and then pass back over the stone wall on its way to the woods. This requires a stile to be sure walkers can pass safely. A sturdy 'A' frame stile was built to do just that! Thank you to Linda Leehy, Jim Cameron, Gladys Mountain and Caren Caljouw for giving up their Saturday to make the stile a reality!
Bring your family and friends to Mandell Hill to check out the birding platform and walk the loop trail!