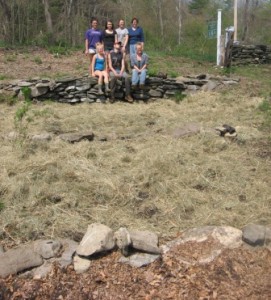 Many thanks to the Quabbin Regional High School Envirothon team and their teacher Becky Bottomley for their hardwork creating a rain garden at the Frohloff Farm!! Envirothon teams representing schools and community organizations across the state prepare through the year for a statewide event in May that tests their knowledge of forest, wildlife, water, and soil resources, and current environmental issues. The program stresses the interdependence of human and natural systems and emphasizes hands-on, team-oriented problem solving and community involvement.
The Envirothon theme this year is 'Storm Water', so creating a rain garden is a fabulous practical project for the students to participate in. Typically a rain garden is designed to capture rain from impervious surfaces like roof tops and parking lots. Rain gardens use native plants to slow down the water, filter out any pollutants and provide habitat for native insects and other animals.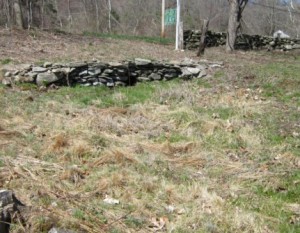 The rain garden was created at the exit of a culvert that brings water from the west side of Church Street over to the barn side of Frohloff Farm. Kelly Wheeler, EQLT's Americorps Service Learning Coordinator, worked with the Envirothon team members to design several rock wall embankments that slow the water and create visually diverse layers. In advance, the team members learned about the plant species to determine the best location for planting.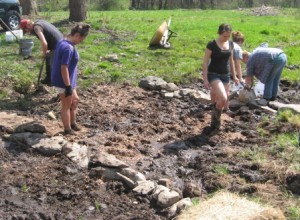 Despite the lack of rain across the region, including Ware, there was water trickling out of the culvert. The team members jumped right into the swale to dig up the remaining grasses and sedges, and then spent considerable time stomping in the leaf/planting mix to create a better medium for the actual planting. Nearly 200 plant plugs were installed including blue flag iris, blue verbena, red cardinal flower and swamp milkweed, plus two common elderberry and two high bush blueberry. A layer of hay was put down to act as mulch, so right now you can't see the plants well, but just wait a few weeks when they get established! It's going to look fabulous.
Thank you to members of the Quabbin Regional High School Envirothon team, Becky Bottomley, Ginny Rich, and Kelly Wheeler for all their assistance with the rain garden installation. Thank you to Matt Koziol for helping clear out the swale. Many thanks to the Edward J. Urban Foundation for financial assistance to support creation of the rain garden!!