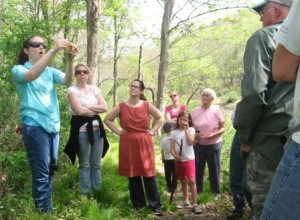 Saturday afternoon was pretty warm, but a gentle breeze off the river kept the black flies away as the group strolled from tree to tree, looking and learning to identify what they saw. Thanks to Kate Marquis, the Mass Service Forester for our region, for leading the walk along the Gilbertville Fitness Trail.
The trail has some unusual tree species present, because of it's disturbed history and location near the Ware River. Box elder, also know as Ash-leaved Maple, was the first species Kate introduced the group to. The tree is right at the gate as you enter, and is unusual because it has a compound leaf, meaning that there are several leaflets on one petiole. Normally in maples there is just one leaf – though often with lobes and serrated edges.
An enormous cottonwood is at the trail bend. The thick and deeply grooved bark makes this tree stand out among all the others. A cottonwood likes its feet wet and often found in areas that frequently flood. There were a number of red trilium, and even a few yellow trillium along the trail for all to enjoy.
We also learned about sugar maple, red maple, silver maple, black cherry, and red oak. Tree identification tags will be installed soon so that all walkers can learn more about the trees along the trail. We hope you enjoy the trail!